This article explains how to manage settings within the Chapter Dashboard.
Your team role determines what chapter settings you can edit. Contact your community administrator with questions.
General
Use the General tab to add or change the basic information about your chapter. Basic information includes:
Title: The name of your chapter.
About: A description about your Chapter that displays on the chapter home page.

Use the text editor in the About field to format text. Open the text editor by highlighting text.

Location: Where your chapter is.
Location Details: Specific information about your chapter location, such as state, city, timezone, or latitude and longitude. Learn more in the article Set latitude and longitude for chapter locations.

It's crucial to set correctly latitude and longitude for the chapter. Otherwise, the events will not be found when searching by location/region in the event's list.

Content: Here you set the Logo and Banner that you want to display on your chapter's page. There are default values for these images for the whole instance. If you need to update the default images, please contact our Support team.
Integrations
Use the Integrations tab to access Bevy integrations, such as Meetup. Learn more in How to Connect to Meetup Pro.
Photos
Use the Photos tab to upload images to your chapter home page, such as pictures from events or community-wide images. Images you upload on this tab display on your chapter home page in the Chapter Photos section.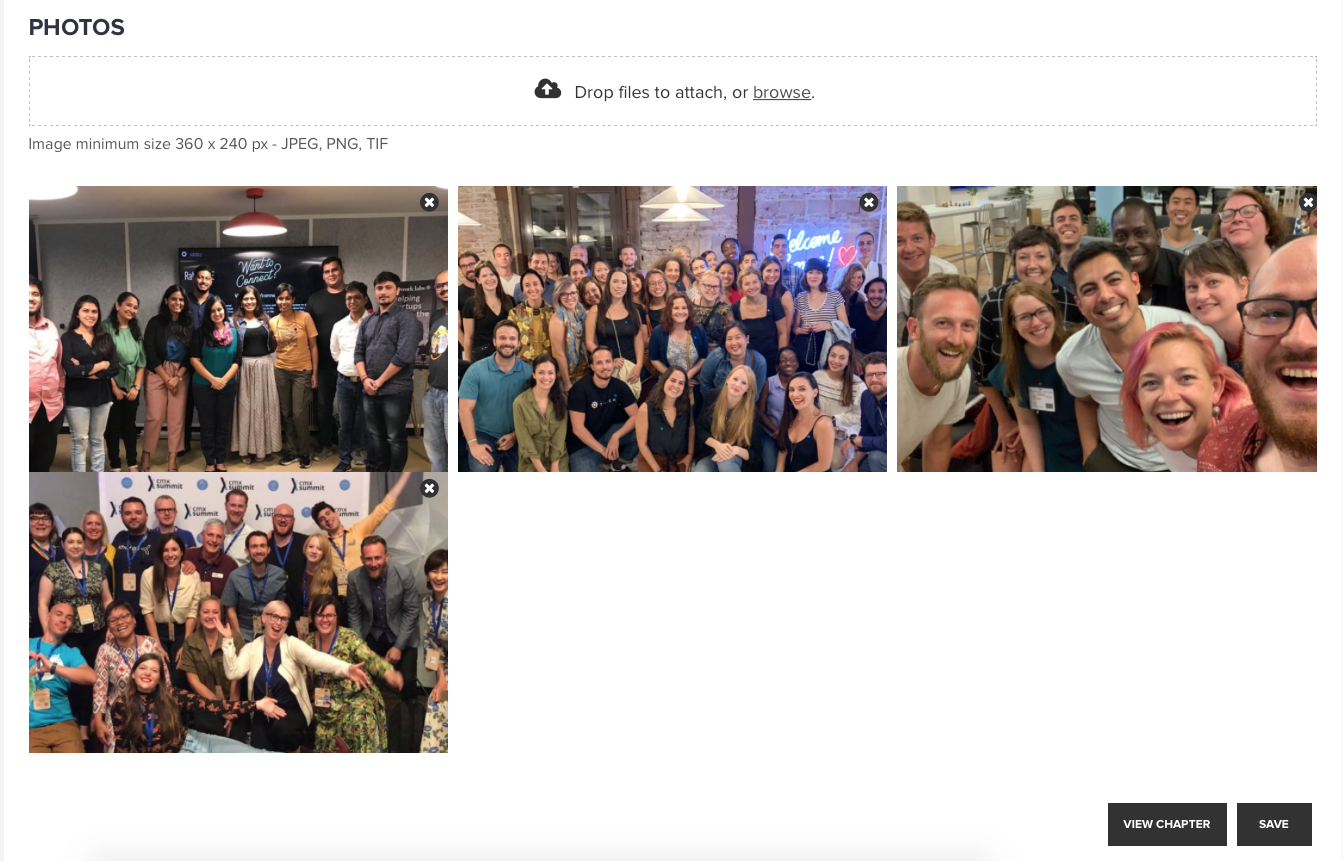 Team
Use the Team tab to search for chapter members, and then add them as team members.
Before you start, make sure that the members you want to add as team members already have accounts.
In the chapter dashboard, click Settings in the left-hand sidebar menu.
On the Team tab, search for the name or email address of the member to add.
Select the member to add. When you select the member to add, you can edit the member.
Enter a Role Title, and then select a role.
Click Save, and then click Publish.