This article is an overview of the analytics available to you within the Admin Analytics.
Ad blockers and Bevy analytics

Some ad blockers will prevent analytics pages in the Bevy dashboard from loading properly. These ad blockers (including uBlock Origin) will not load URLs that contain the path /api/analytics, which is used in the background within Bevy analytics dashboards.

If your ad blocker allows customization, you can allow this path for the domain of your Bevy site. If your ad blocker does not allow customization, you can temporarily disable it for your Bevy site in order to view analytics.
As an administrator, you have access to the Admin Analytics dashboards that allows you to view global analytics across all chapters in addition to local chapter level data. These dashboards will provide you insights on the performance and growth of your community.
The different dashboards in Admin Analytics focus on different areas of your community including:
To view the Admin Analytics:
In the Admin Dashboard, select

Analytics

in the left-hand sidebar menu.

Select the Analytics tab you want to view. For each section you can:

Filter by different parameters to adjust your view of the data.

Download the data as a CSV

file

Schedule email delivery of dashboard PDF to your inbox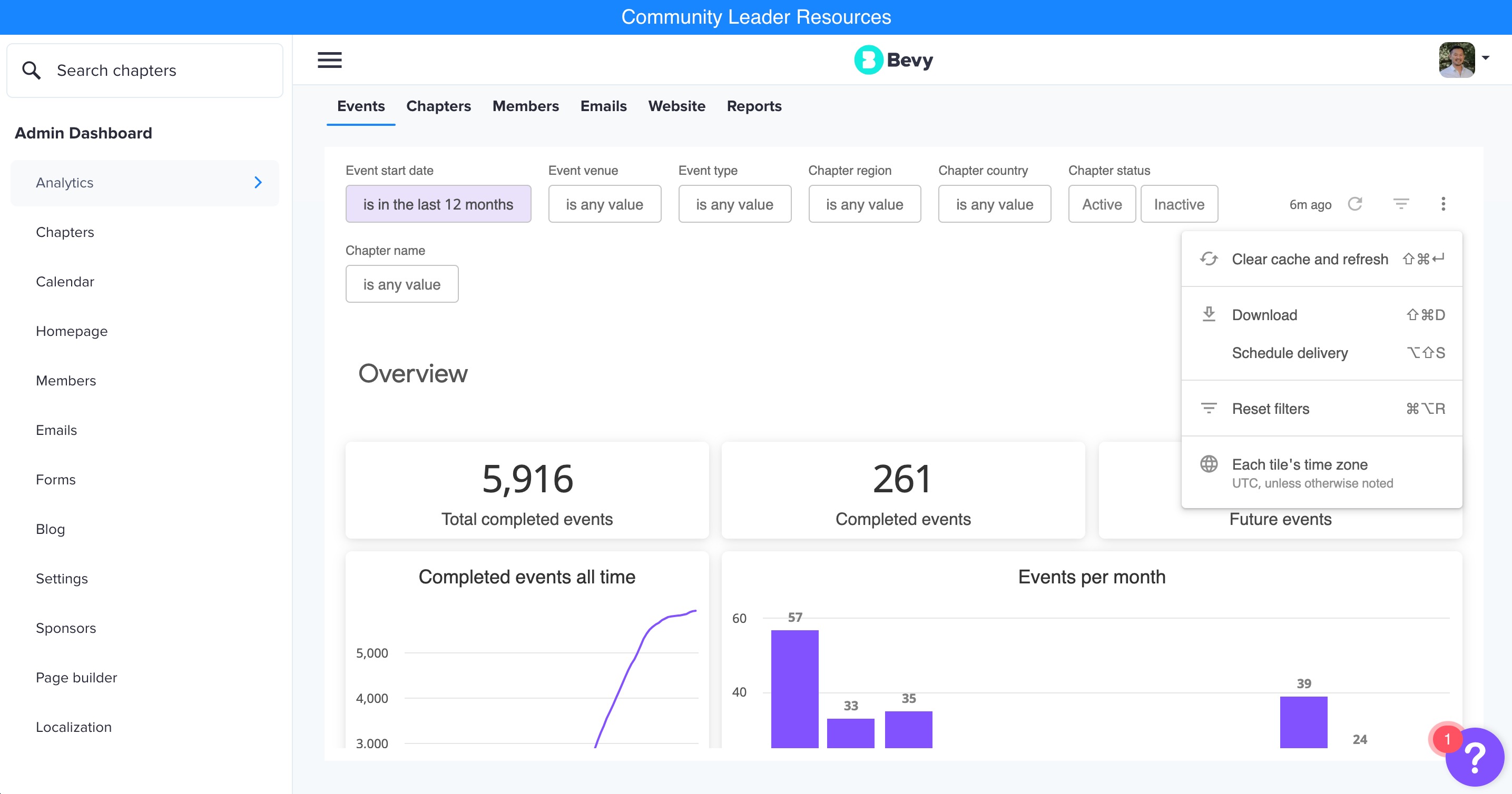 Events
The Events section displays community data for events including:
Overview on the number of events

Attendance numbers and stats

Geographic distribution of events

Event distribution by event types

Engagement data for Virtual events

List of event speakers and sponsors

List of Cohosted events
Use different filters like chapter, regions and dates, to adjust the data that displays.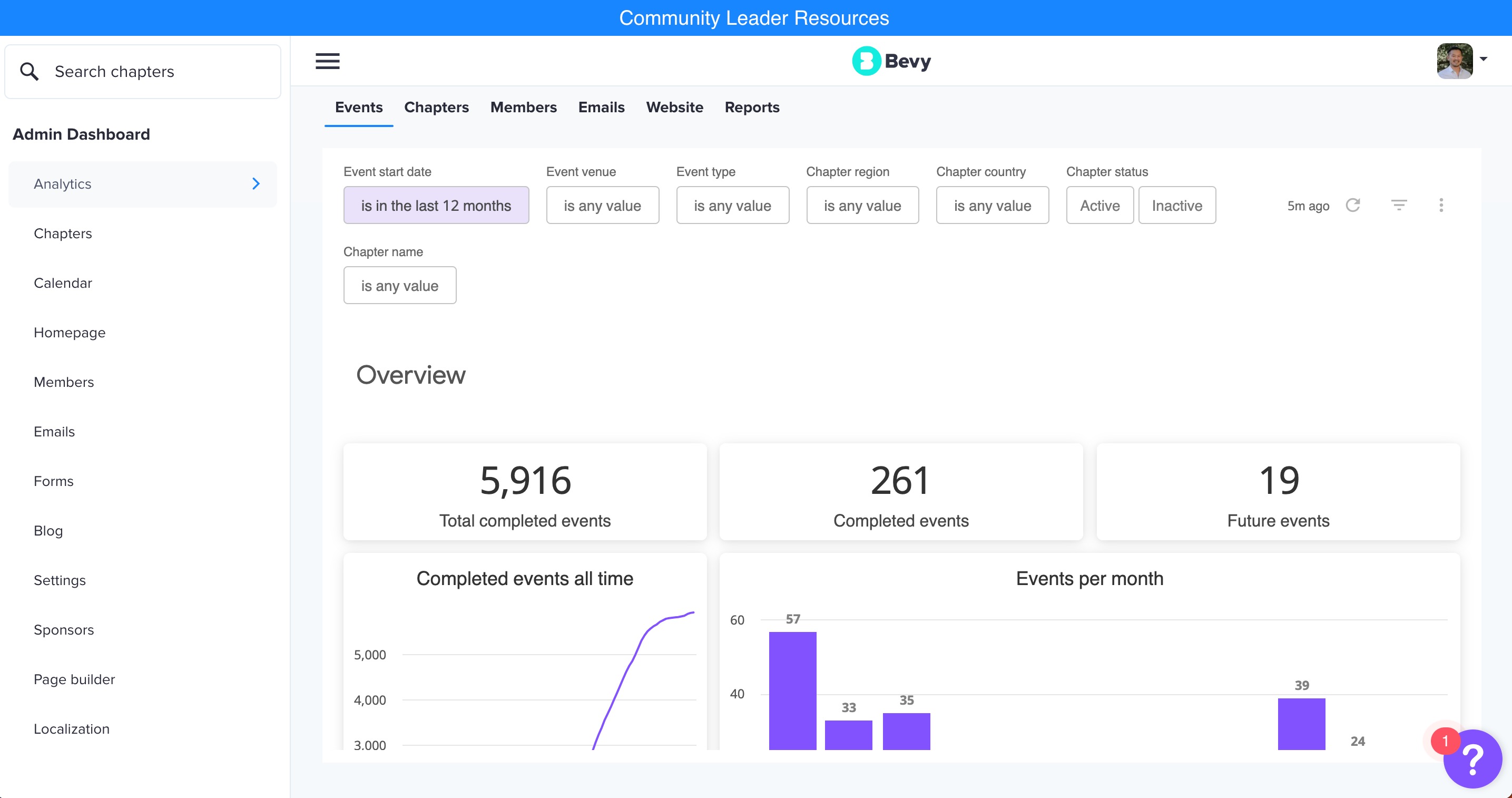 Chapters
The Chapters section displays a graph of your total chapters over a specific time period. Compare different chapters, such as active and inactive chapters. You can also view other information in this section including:
Overview of Chapter activity and growth

Geographic distribution of chapters by regions, countries, cities, etc

Chapter event activity
Use different filters like geographic location, chapter type and dates, to adjust the data that displays.
Members
The Members section shows information about your members, including a comparison of new members and total members. View other information including:
#Site users

Chapter members

Chapter team members
The data displayed in this section is for members in all chapters.
Emails
The Emails section provides stats for newsletters and automated emails. Use this section to keep track of the number of emails sent, and how they're received by your community. You can view metrics for newsletters and automated emails including:
Sends

Statistics on sends, delivery, opens, and clicks

Unique open and click rates
Website
The Website tab displays analytics for your Bevy website. Use this section to see how many users visit your site and other site performance metrics. You can view the following website information:
Overview of site visitors, session engagement, and page views

Site Traffic Attribution by UTM campaign, source and medium

Views on chapter pages and chapter join numbers
Learn more about viewing the Website tab here
Reports
On the Reports tab, community admins can access reports about their chapters, events, and people. This tab has a list of reports that you can view, send, and download. You can view the reports, download them, and send them. You can also schedule delivery, so you can share a report with someone on a daily, weekly, or monthly basis.
You can filter and sort the report data in the report center and control things like column order. This means that you can find specific information before you have to download a file.
Because the data in these reports refreshes every two hours, you can access almost real-time community data in the dashboard.
Learn more about how to use the Reports tab here