This article explains the information, controls, and reports in the Report center available in the Admin dashboard.
Ad blockers and Bevy analytics

Some ad blockers will prevent analytics pages in the Bevy dashboard from loading properly. These ad blockers (including uBlock Origin) will not load URLs that contain the path /api/analytics, which is used in the background within Bevy analytics dashboards.

If your ad blocker allows customization, you can allow this path for the domain of your Bevy site. If your ad blocker does not allow customization, you can temporarily disable it for your Bevy site to view analytics.
Overview
On the Reports tab, community admins can access reports about their chapters, events, and people. This tab has a list of reports that you can view, send, and download. You can view the reports, download them, and send them. You can also schedule delivery, so you can share a report with someone on a daily, weekly, or monthly basis.
You can filter and sort the report data in the report center and control things like column order. This means that you can find specific information before you have to download a file.
Because the data in these reports refreshes every two hours, you can access almost real-time community data in the dashboard.
Learn more about the reports available in Report center reports.
Download reports
Use the Download button to save a report.


You can configure the format and access advanced options such as:
Results—Download with visualization options applied or how it displays in the data table.
Data values—Formatted or unformatted. For example, rounding or special characters.
Number of rows to include—Current results (up to 500 rows), all, or a custom value.
Send reports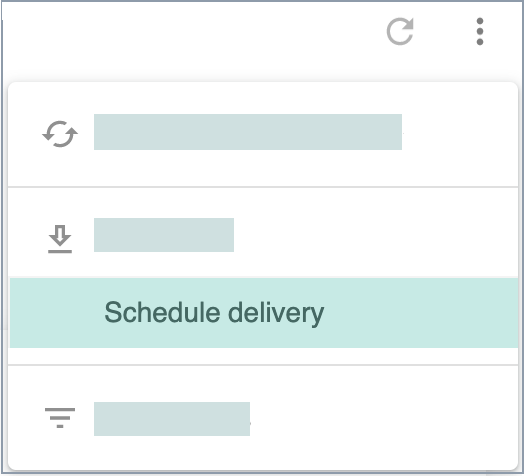 Use the Schedule delivery option in the dashboard controls to configure a regular export of the dashboard data. You can configure different settings and options including:
Frequency and timing of delivery
Destination
Format
Filters
Display settings
Additional message
Schedule delivery to track registration for an event. Instead of having to check your dashboard every day, schedule an daily update that gets delivered to your inbox.
After you have the delivery set up and ready to go, click the Test now button to sent a test, or click Save. After you save your delivery options, Bevy automatically delivers the dashboard data at the right time.