Welcome to Bevy release notes! Every month we share product updates, fixes, and general improvements.
Summary
---
New Features
Translate pages on Bevy using the Language selector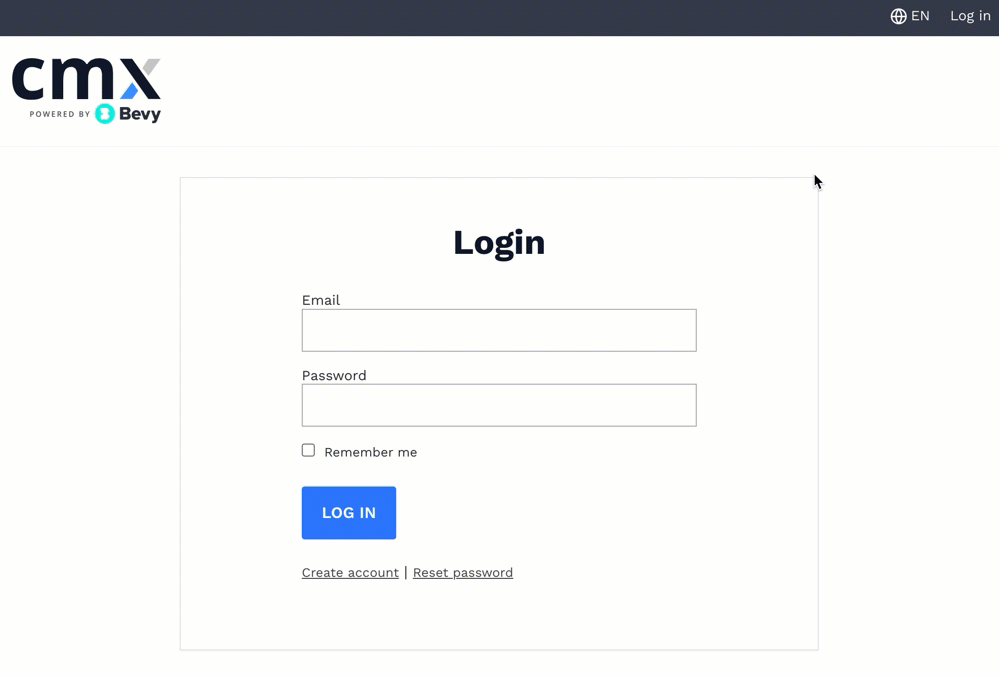 You can display community pages, chapter pages, and the dashboard in multiple languages. Use the language selector to translate all the Bevy text to the language you want to use.
This is a big step in our efforts to make community a consistent experience for people all over the world. Next, we'll be researching user-generated content to translate everything on a page into the language people select. We're also developing localized emails.
Analytics Beta - Virtual dashboard additions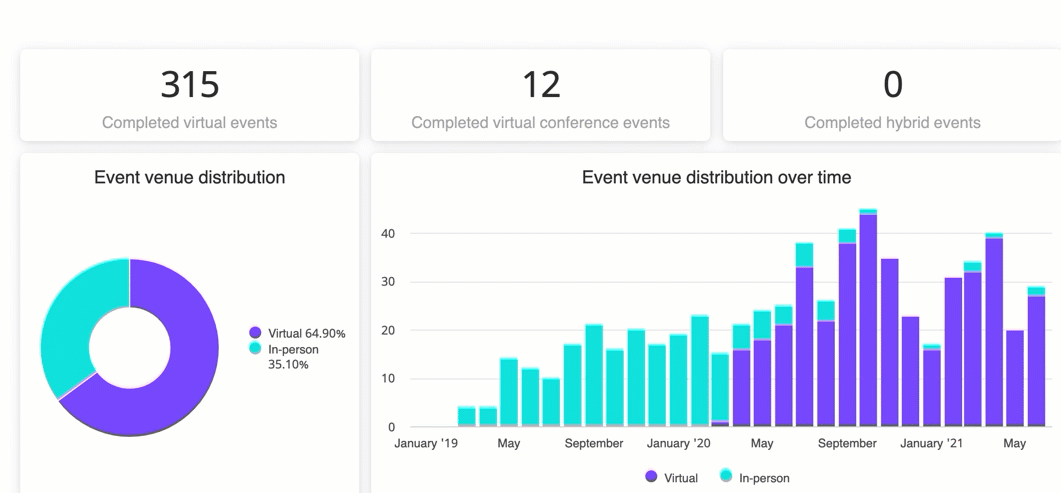 This great dashboard just got even better! Now you can see:
Events by event venue

Registration and attendance rates

Virtual conference engagement overview
Many-to-many session format in Bevy Virtual Conferences

When you create a new session for a virtual conference you have new options for the session format. In addition to the pre-recorded and live sessions, you can make an interactive session. When people join a many-to-many session format, audio and video is automatically enabled for the first 50 people that join. It also limits the total number of people that can join that session to 350.
We've heard great things from the people using this feature for their Bevy Virtual events. Let us know how you use it in your conference!
Conference and community app updates
We hope you're as excited about our community and conference apps as we are. This month's work includes:
Registering for events in the app
Displaying sessions for specific ticket types
Adding sessions to your calendar
Viewing a list of your chapters, including hidden chapters
Filtering event lists by event type
Displaying hidden events in the My events list
Community networking
Sending DMs after an event ends
Android: Push notifications for DMs
Improving the agenda for hybrid events
Improving the experience of leaving a conference event in the community app
PKCE Support for OAuth2.0 and Open ID Connect
The latest improvement to our Single Sign on (SSO) options is added support for the PKCE flow. This adds a code verifier and code challenge to the OAuth2.0 authentication code process. To get this option set up, talk to your Bevy onboarding team.
Learn more in our technical documentation:
Copy event link

When you're viewing your events in the dashboard, you can open the menu and copy the link to the event. This makes it faster for you to share the link with people so you can spend more time talking about your event and less time clicking.
Help Articles
Fixes
There was an issue with creating recurring events that recurred for more than 52 weeks. The issue was that there was an error that you couldn't see. We've made sure that our validations validate what we want them to and now you can create recurring events that recur for more than 52 weeks.
We had a lot of words on the ticket widget of paid event pages. We made them clearer and updated the column name from Date to Availability. Now instead of Sales end and Sales start before the date, it just says Starts, Ends, or Ended. This also matches the field name when you configure the tickets.
In emails, there was a gray box instead of the event thumbnail image. Now the image displays.