This article is an overview of hybrid events on Bevy and provides details about changing event venues to or from hybrid.
Overview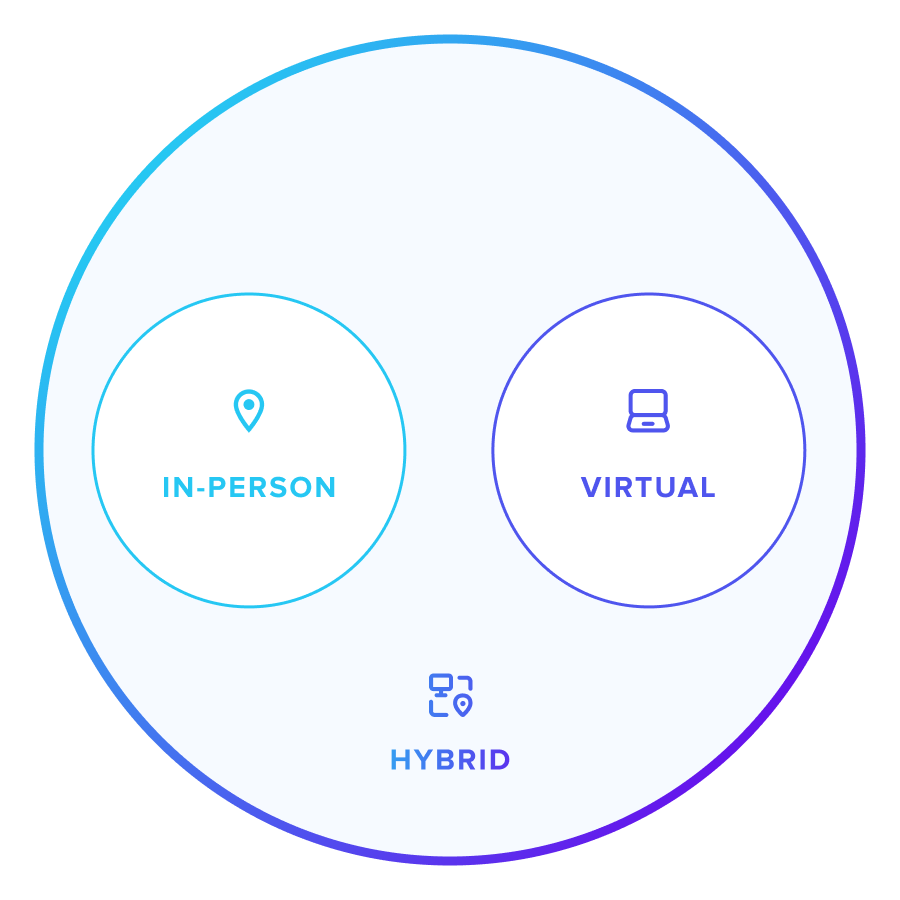 Hybrid events combine the virtual event experience and the in-person event experience. This means that attendees can attend completely virtually, completely in-person, or both.
When you create an event, you configure:
Event Venue—Where the event happens.
Ticket Venue—The tickets available for an event.
Session Venue—How attendees can access the session of a conference. Whether or not someone can access a session also depends on their ticket. The session venue displays on the event page agenda.
When someone has a virtual ticket for a hybrid event they can only access virtual events. If they have a hybrid ticket, they can access virtual, in-person, and hybrid session.
When you create a hybrid event, you must add location information and virtual event platform information.
Change the event venue
We understand that plans change. With published Bevy events, you can change the event venue any time before an event starts.
You can't change a ticket type after anyone registers with it. That is, after a ticket is sold the venue for that ticket type is locked. This means that if you change an event from hybrid to just virtual or in-person you need to contact anyone that already has a hybrid ticket.
If you change your event venue before anyone has a ticket you might also need to adjust the tickets. These changes include:
Hybrid Virtual or In-person—Limiting the event to only one venue.
Bevy automatically updates unsold tickets to the new ticket venue.
Virtual or In-person Hybrid—Adding options and ways for people to attend the event.
You need to add the new ticket options for the event.
Use automated emails and newsletters to contact people with different event tickets. For example, sent an email to people with a hybrid ticket or a virtual ticket.