This article provides detailed information about the latitude and longitude location settings in your chapter dashboard.
Set chapter location using latitude and longitude
You can set a chapter's geographical location using the city name or using latitude and longitude measurements. You do this in Chapter settings. Sometimes a specific city is not listed in the Location list. By using latitude and longitude for the location, you can match parent chapters and subchapters easily, without needing that city match.
Latitude and longitude precision in Bevy
For accurate precision, you only need up to four decimal places in your latitude and longitude measurements. This ensures that your location is precise within an 11-meter (36-foot) area. If you are using this information to locate in-person events, this distance provides enough information to calculate nearby events or provide accurate directions to reach an event. It is precise enough to locate chapters and subchapters.
Bevy allows you to provide a latitude and longitude up to 18 digits long. This is far more precision than is necessary for an accurate location, so there is no concern if you provide fewer numbers. Likewise, if you provide more than 18 digits, Bevy will truncate that down to 18. Again, for the purposes of locating chapters, subchapters, and events, 18 digits is more than enough and four decimal places is recommended. You are not losing precision.
For details about the precision of specific decimal places, see Precision distances.
Examples
Four decimal places (recommended):
LAT: 37.4683
LON: -122.1439
Maximum number of digits allowed in chapter dashboard settings (18):
LAT: 37.4683198012345678
LON: -122.143936901234567
Longer than allowed in chapter dashboard settings (will be truncated to "Maximum allowed" above):
LAT: 37.4683198012345678468319801
LON: -122.143936901234567936901234
Precision distances
This section contains more detailed information about latitude and longitude precision, supporting the recommendation to provide up to four decimal places in your measurements. Precision refers to how closely a measurement pins down an actual value. Each decimal place provides more and more precision for the latitude and longitude values.
For each latitude and longitude measurement:
| This digit | Indicates | Which means |
| --- | --- | --- |
| Sign (+ or -) | Direction | North, East, South, West |
| Tens digit | Up to about a 1000-km (620-mile) area | The continent or ocean you are on |
| Ones digit | Up to a 111-km (70-mile) area | Roughly the large state or country you are in |
| First decimal place | Up to a 11.1-km (7-mile) area | The position of one large city from a neighboring large city |
| Second decimal place | Up to a 1.1-km (0.7-mile) area | It can distinguish one village from the next |
| Third decimal place | Up to a 110-m (365-foot) area | See graphic below |
| Fourth decimal place | Up to a 11-m (36-foot) area | See graphic below |
| Fifth decimal place | Up to a 1.1-m (3.6-foot) area | Extrapolate from the graphic below |
| Sixth decimal place | Up to a .11-m (4-inch) area | See graphic below |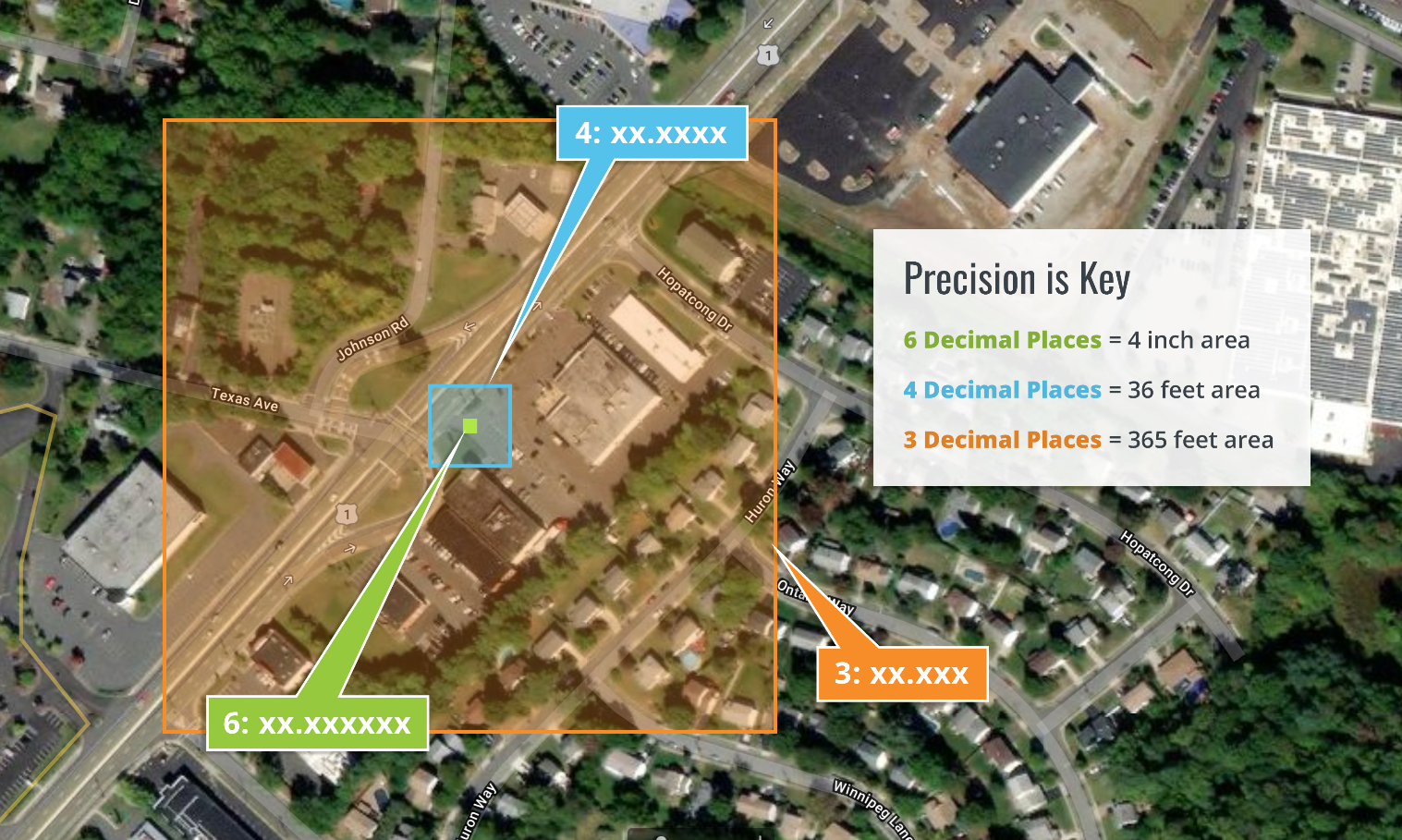 source: https://support.pcmiler.com/en/support/solutions/articles/19000084902-why-is-latitude-longitude-decimal-precision-important-