This article explains the information, controls, and data in the Chapter analytics dashboards.
Ad blockers and Bevy analytics

Some ad blockers will prevent analytics pages in the Bevy dashboard from loading properly. These ad blockers (including uBlock Origin) will not load URLs that contain the path /api/analytics, which is used in the background within Bevy analytics dashboards.

If your ad blocker allows customization, you can allow this path for the domain of your Bevy site. If your ad blocker does not allow customization, you can temporarily disable it for your Bevy site in order to view analytics.
As a chapter organizer, you have access to view analytics about the chapters you manage. Depending on your permissions, you might have access to some or all of these dashboards.
Learn about how your chapter is performing in different areas. With more data, you can make data-informed decisions to engage with members, plan events, and scale your community.
The different dashboards in chapters analytics focus on different areas of your chapter including:
Overview—a summary of all the dashboards for your chapter displayed in once place so you can quickly get an idea of what's going on in your chapter.
Members—how your chapter members are doing and what they're doing. This includes new member activity and most active members so you can take informed action to engage with them.
Events—what events your chapter is hosting, who is involved with them, and activity patterns. This includes how events compare by venue, type, and attendance.
Attendees—the people engaging with your chapter events. This includes who is registering compared to who is attending events over time.
Tickets—what ticket orders and event tickets look like for events. This includes ticket types, ticket orders, and ticket avialblity for upcoming events.
Sponsors—how sponsors and partnerships are performing for your chapter. This includes things like who they are, how many there are, and the tier distribution for your events.


Some sponsors and partners are added to an entire community. This dashboard shows information about the sponsors and partners specific to your chapter and chapter events.
View chapter analytics
To open the chapter analytics:
In the dashboard for your chapter, select Analytics in the sidebar menu.
Select a tab to view a different dashboard.
Understand the dashboard
As you search and filter in a dashboard, the data that displays updates. This makes it easy to quickly see the data you're looking for.
Within each section there are different ways we summarize data including:
Key Performance Indicator (KPI) titles—A total or average summarizing a metric.
Visualizations—A chart displaying dashboard data. For example a pie chart, a bar graph, or a line graph.
Tables—Rows of records showing details of the data.
Learn more about specific data calculations in Beta analytics glossary.
Navigate the dashboard
Explore and interact with the different parts of the dashboard including:
Dashboard controls

Search and filter—Search for events by name or event ID.
Reload—After you select or clear a filter, click the Reload button to update the dashboard.
Dashboard actions—Open this menu to access the different actions available for the entire dashboard, such as Clear cache and refresh, Download, Schedule delivery, or Reset filters.
This menu also displays the keyboard shortcut for each action.

KPI title—Open the menu for the KPI to refresh or download this data. Select a format and options like how many rows to include, formatting, or results. Then download or open the results in your browser.
Visualization—Hover over different points in the visualization to see specific values or click part of the visualization to open the details. Clicking a visualization opens a table with each record.
Table—Click a column header to sort values by that column, click and drag a column divider to resize columns, or click and drag a column to re-order them. Click a bar in the table to open the details of the data. Clicking a bar opens a data table with each record.
Drill into data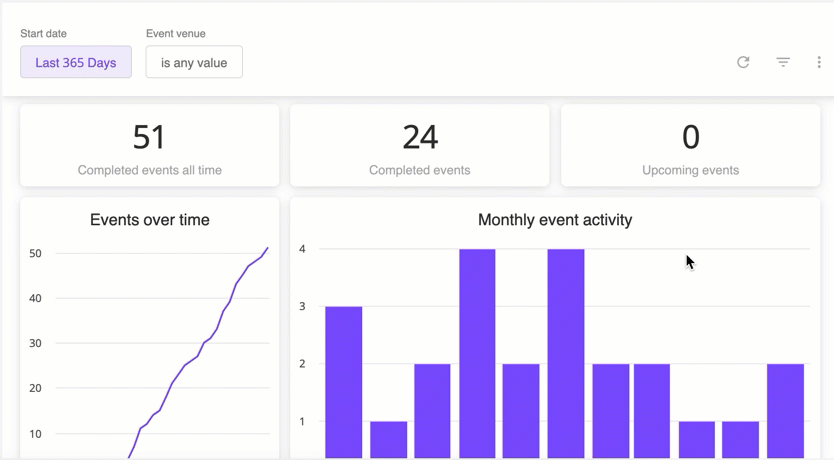 Selecting different parts of the dashboard opens the option to drill into data. After you select part of a visualization, choose how you want to drill into the data. This opens a dialog window where you can select a visualizaion or table view. From the table view you can:
See what filters are applied to the data
Re-order columns
Freeze columns
Copy values
Autosize and reset column width
Download data
Download data
Download data different ways including:
From the data table view of tables and charts using the Download button



This downloads the rows that the visualization displays. To download all rows, expand the Advanced data options, and then select All results.

Open the action menu, and then click Download data


You can configure the format and access advanced options such as:
Results—Download with visualization options applied or how it displays in the data table.
Data values—Formatted or unformatted. For example, rounding or special characters.
Number of rows to include—Current results, all, or a custom value.
Send data
Use the Schedule delivery option in the dashboard controls to configure a regular export of the dashboard data. You can configure different settings and options including:
Frequency and timing of delivery
Destination
Format
Filters
Display settings
Additional message
Schedule delivery to track registration for an event. Instead of having to check your dashboard every day, schedule an daily update that gets delivered to your inbox.
After you have the delivery set up and ready to go, click the Test now button to sent a test, or click Save. After you save your delivery options, Bevy automatically delivers the dashboard data at the right time.