Use event tags to identify certain keywords that describe and categorize the event more specifically. These tags display both on event pages as well as in search. Users/attendees can filter events by tag. Administrators can use tags for reporting and analytics purposes.
Event tags are different from event types, which allow you to set the event settings available to your community.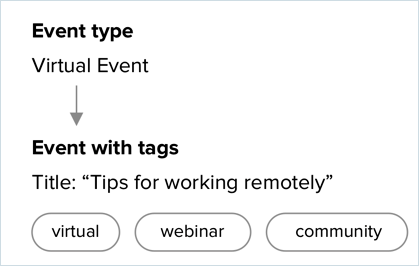 Create tags
For the best user experience, we recommend limiting the number of tags available to 20 or fewer (in up to 4 categories). The most common categories for tags among Bevy customers are: Topic, Event Type, Product or Feature, Language, Audience, Region.
Click Settings from the left sidebar in the Admin Dashboard.
Click the Event Tags tab.
Click Add New Tag to add a new row.
Enter a tag name, and click Save Tags.

If you delete a tag (X), it will no longer be available to apply to new events. Additionally, it will be removed from any past events associated with that tag, including the ability to sort on the tag within analytics.
Set tag thresholds in event types
Each event type must have a maximum tag value greater than 0 in order for the Tag option to show up in event creation.
Click Settings from the left sidebar in the Admin Dashboard.
Click the Event Types tab.
Edit the event type(s) for which you want to allow tags.
Set a minimum if you want to require tags. Otherwise, leave the value set to 0.
Set a maximum if you want to limit the number of tags that can be applied to a single event.

Click Save.
Add tags to events
Only Admins can create tags (see above). If no tags are added in the Admin Dashboard, tagging is not visible from within Event Settings.
Create a new event or edit an event in the Chapter Dashboard.
Below the event description, click to apply one or more tags.

Save and publish the event.
Where tags appear
After an event is published with tags, they are available to site visitors from the following locations:
Filter by tag on the Homepage in the upcoming events widget
View tags on the /events page of the site
View tags on the event page
View tags in the upcoming events section of the chapter page

Tags are also available to use:
On the Analytics page of the Admin Dashboard (Events tab).
Via the API