Welcome to Bevy's release notes! Every month we share product updates, fixes, and general improvements.
New Features
Bevy Virtual localization
Bevy is committed to helping you grow your global communities. With Bevy Virtual localization, presenters and attendees can use features such as breakout rooms and direct messaging and have a more immersive, engaging experience in Bevy Virtual.
We are laying the foundation for supporting a robust, truly localized end-to-end product experience. Our focus now shifts to the dashboard and our email tool.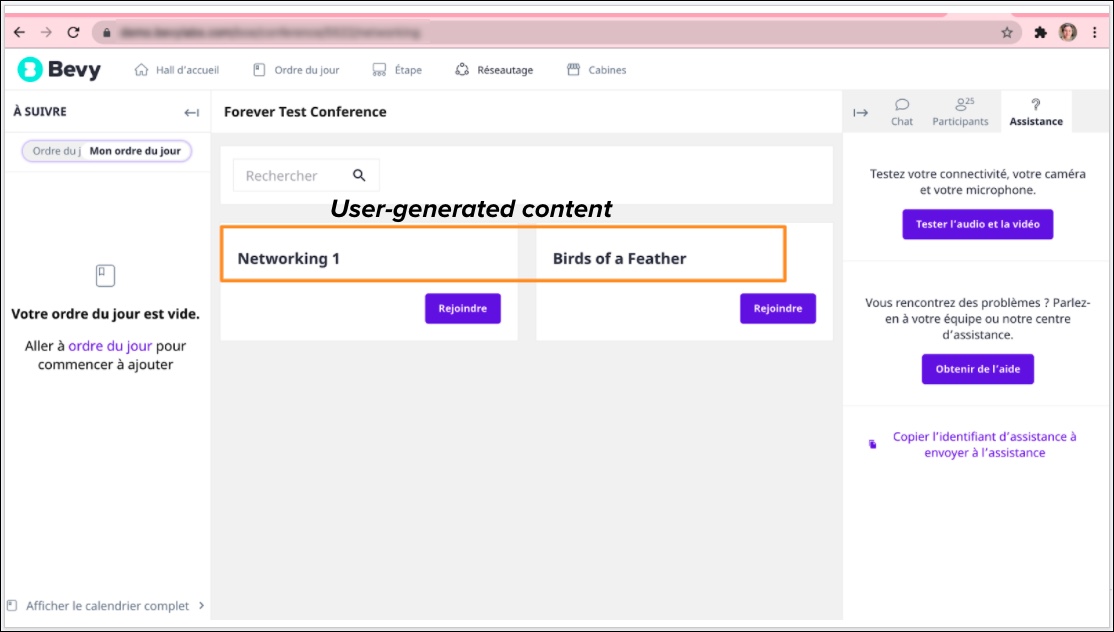 HubSpot Integration
Bevy is building a comprehensive suite of Integrations. This month, we have added a HubSpot Integration. Tie Bevy data to your CRM by mapping Bevy user, attendee, and event data to HubSpot.
Unlock deeper analytics, engagement, and productivity to make your events memorable, and your community thrive with the Integration Suite.

For more information, go to: HubSpot Documentation
Private rooms
Private rooms let attendees network with each other. In Bevy Virtual Conference, all event attendees have a private room for which they are the host.
Private rooms can hold up to 50 people for a video and or audio conversation.

Everyone in the room can screen share, and each room has its chat.

Private rooms are available for your entire instance, but soon you'll be able to enable them per event.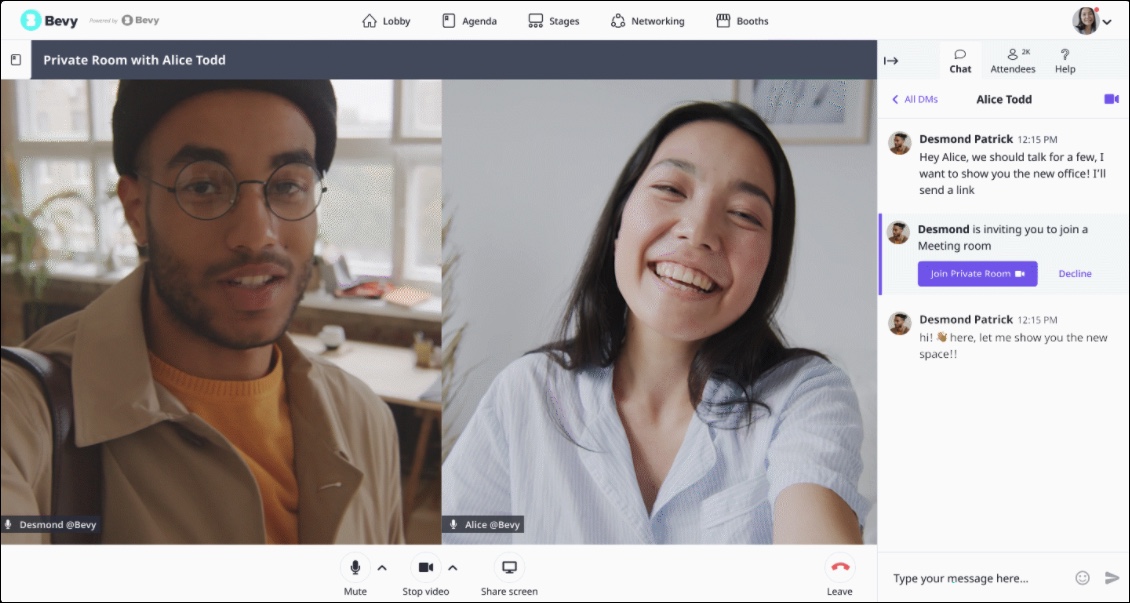 For more information, go to: Private Rooms
Private Q&A
Private Q&A, available in Bevy Virtual Community & Conference, allows attendees to ask only visible questions to the event host. When Private Q&A is enabled:
Hosts can see all questions; attendees only see their own.

Hosts can answer the question live on air or reply to the question online.

The question will only be visible to the host and the attendee who asked the question.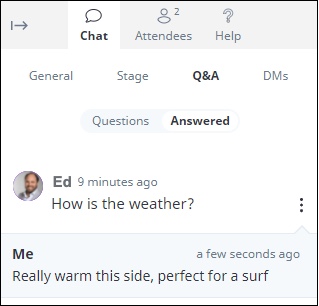 For more information, go to: Private Q&A
Map Ticket Type in Salesforce & Marketo Integrations
Map Bevy ticket types to fields in Salesforce and Marketo. Specify the API field name that you would like Bevy Ticket Type mapped to start syncing.
Spotlight an upcoming event
Spotlight an upcoming event on your Bevy homepage by specifying a special event ID and callout text in the Admin dashboard General Settings under:
Homepage Special Event ID - Locate event ID from the URL when editing the event settings. In this example: /dashboard/#/chapter-12/event-23/edit-virtual-event/, the event ID is 23.
Homepage Special Event Callout Text - Displayed just above the highlighted event (optional). In the example below, the callout text is "CMX SUMMIT 2021."


Email the event waitlist
Organizers can now email newsletters to the Users on Event Waitlist audience directly from their chapters. Admins can create automated emails for this audience from the Admin dashboard.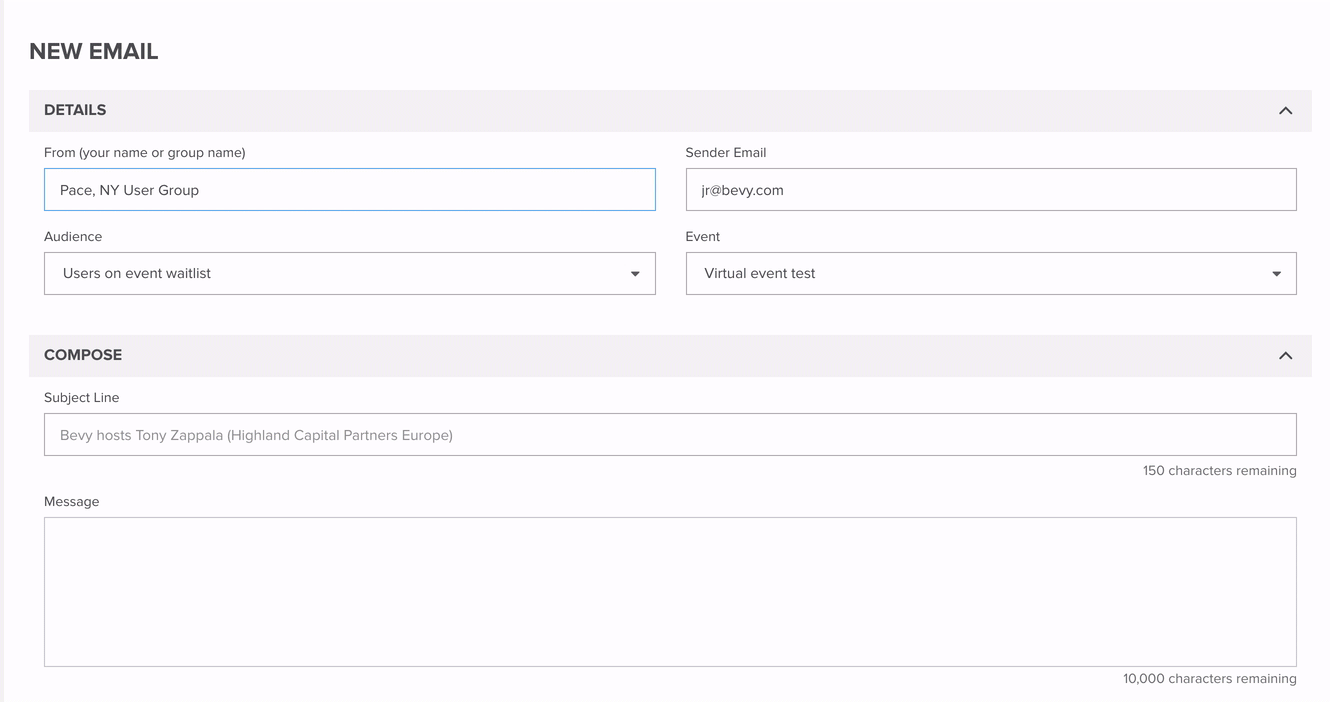 Breakout rooms
We have made two significant improvements to breakout room settings:
We increased the maximum number of attendees per room from 9 to 50.

Added an Include Hosts checkbox that sends all hosts (except the host who created the rooms) to randomly selected breakout rooms.



For more information, go to: Manage Breakout Rooms
Disable chat and direct messages
Organizers can now disable chat, per event, in Bevy Virtual Conference and Bevy Virtual (part of Community). Tip: It's best to disable chat before the event and not during a live event.
The Disable Chat setting is part of creating an event.



New show/hide behavior for the agenda
We've made it easier for attendees to view current and future days and revisit previous days on the agenda while attending a multi-day event. When you first join a Bevy Virtual Conference event, the present and coming days of the event are displayed. You can now select Show Completed Sessions to display previous days and then return to only current and future days by selecting Hide Completed Sessions.
Sync homepage subscribers to Mailchimp
You can now sync global subscriptions from Bevy to Mailchimp. If you capture signups from the Join bar on your homepage, Bevy syncs this username and email address to Mailchimp.
Registration date in the attendee list table
View per attendee registration date at a glance in the event attendee table.
Disable PDF ticket attachments in confirmation emails
Remove PDF ticket attachments for confirmation emails of in-person events.
Admins can enable or disable this setting in the Admin dashboard under General Settings.

Disable screen sharing in Networking
We can now disable attendee screen sharing in virtual conference networking tables for you. It does not affect a host's ability to screen share. Contact us to leverage this setting for your events.
Fixes
Every month, we release a series of performance enhancements, improvements, and defect fixes across our products. Here are the highlights.
Active user sessions renew so that sessions don't expire with repeat site engagement.
We edited multiple translations and headings for clarity and UX improvement.
Improved error messaging and alerting within Bevy Virtual Conference agenda creation.
We have improved the performance of the Event Details page so that it loads at speed even when the database contains a large number of speakers or companies.
On an organization's home page, map coordinates are now displayed correctly for non-Windows operating systems.
When you use the @mention feature in the chat window, the names of present participants are correctly auto-filled as you type.
Email messages on a PC now display banners correctly sized in Outlook.
In Bevy Virtual Conference, we no longer auto-play Lobby videos. Attendees can control play and pause functions.
You can now use the ESC key to close the emoji picker in the Bevy Virtual chat window.
When you create a new chapter, the default status is now Active.