The article outlines how to live stream to a stage from third-party software and provides recommendations for encoder settings.
From the dashboard click the Events tab on the left sidebar, and then select the event to edit.
Click the Agenda tab.
Click the stage to stream to.
If the stage hasn't been added, add a new one.
Edit the stage.
Use the RTMP Server URL and Stream Key.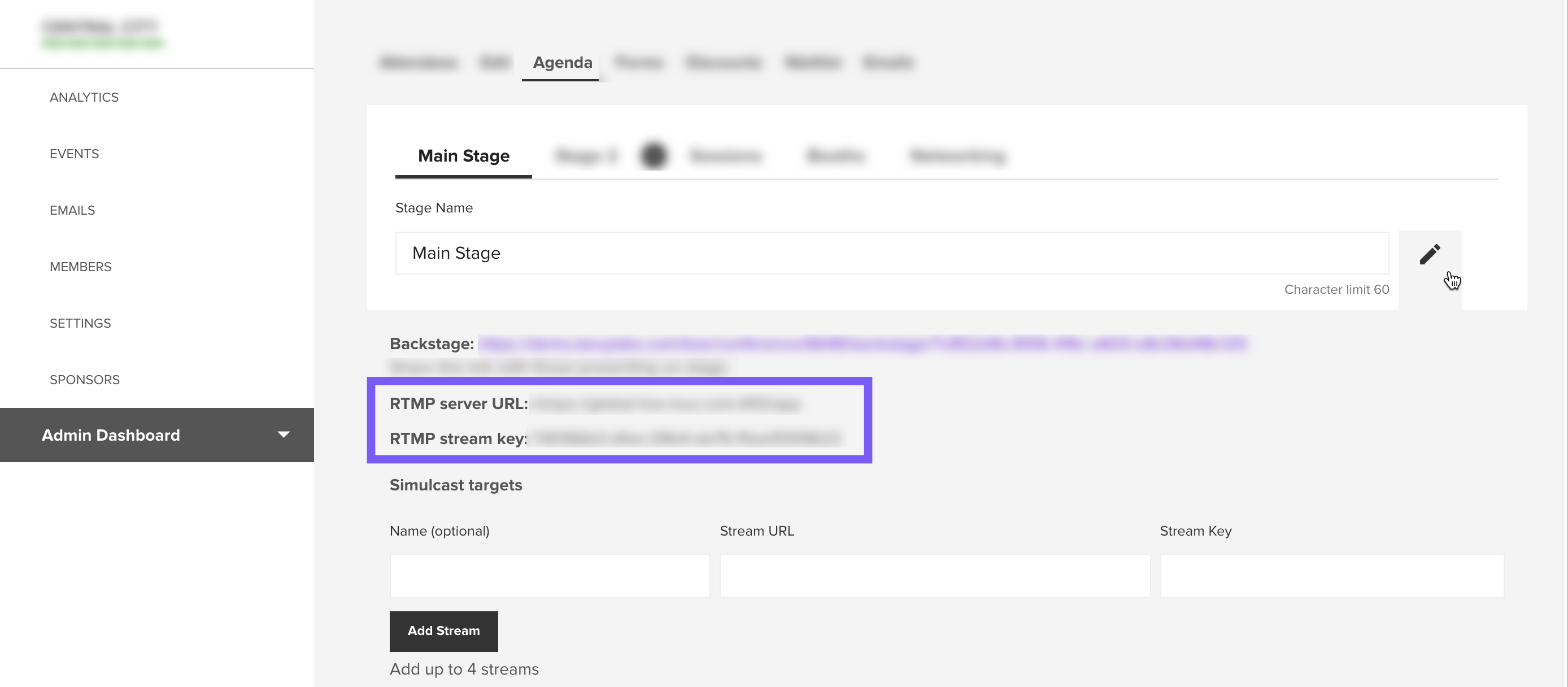 If you encounter an error while you're live streaming using RTMPS, use the following RTMP Server URL instead: rtmp://global-live.mux.com:5222/app.
Recommended encoder settings
Since we generally do not support 4K output, you can configure your own encoder. Use these encoder settings as recommendations for reliable live stream for your internet connection. Be sure to test the live stream once you've chosen your settings, and then adjust for the highest quality live stream possible.
These recommendations are based on those provided by Mux. For more detailed information about encoder settings, see the guidelines that Twitch and YouTube provide.
When you choose an encoder bitrate, consider your available upload bandwidth. You should not use more than 50% of it for the most reliable connection.
Common
• Video CODEC - H.264 (Main Profile)
• Audio CODEC - AAC
720p 30fps
• Bitrate - 3500 kbps
• Keyframe Interval - 2 seconds
1080p 30fps
• Bitrate - 5000 kbps
• Keyframe Interval - 2 seconds
480p 30fps
• Bitrate - 1000 kbps
• Keyframe Interval - 5 seconds
Software encoders
Encoders that support RTMP should work with Mux Video.
Hardware encoders
Encoders that support RTMP should work with Mux Video.
Mobile devices (iOS, Android)
To use a pre-built solution to stream from an iOS app to RTMP server, read this Mux blog. To build your own app, read this guide.
Continuous stream limit
The maximum continuous stream duration for pre-recorded content is 12 hours. This means that if your event day is longer than 12 consecutive hours, you must restart the stream before you reach 12 hours.
We recommend you stop and restart your stream at the end of your event day, regardless of event duration.
Maximum pre-recorded content upload
While there isn't a size limit to the pre-recorded content you can upload, we don't recommend trying up add over 3GB. This is because your browser could time out if the file is too big.