This article covers tools that hosts have during an event to moderate chat and other attendee features. This content applies to Bevy Virtual and Bevy Virtual Conferences.
---
You must be host to access the moderation controls. Chapter team members have host permissions by default, and they can promote other attendees to host during the event.
Mute attendees with presenter mode
To mute all attendees who have Presenter mode enabled, click the Mute icon besides All Attendees in the right sidebar.

Remove an attendee from the event
Within the event, click the Attendees tab.
Click the drop-down arrow next to the attendee's name.
Select Permanently remove from event to ban the attendee from your event.
Delete a chat
Hosts may delete other messages including their own. Attendees can only delete their own messages.
Click the arrow on the chat message you wish to delete, and click Delete Message.

The attendee sees a modal informing them that their chat was deleted.
Block chat
As a host, you can block an attendee from chatting.
In chat, select drop down icon next to the message
Click Block Chat.
The attendee will be blocked from chatting for 24 hours.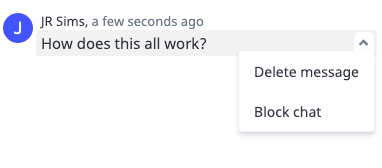 Take action on reported messages
Attendees have the ability to report to hosts another attendee's message in chat for violating the code of conduct.
Attendee clicks to report a message.

Al hosts see a flagged message denoted with a yellow background.

Hosts can take the following actions:

Send a DM to the user
Unflag the message to say it's safe
Delete the message
Block the chat

If you block the chat, the user will not be able to chat in any community event for the next 24 hours.

Confirm the action (applies to deleting, unflagging, or blocking).
Profanity filtering
The platform includes filtering for typical profanity in English. Should attendee submit a message with inappropriate words in it, the system will immediately delete it.