This article explains how to configure, edit, and add dynamic content to automated emails.
About automated emails
Automated emails are marketing emails and are only sent to members who are subscribed to a chapter. Anyone can unsubscribe from automated emails at any time.
As an administrator, you can manage and create automated emails. In your admin dashboard you can configure the email details, content, and customize the trigger for emails to be sent.
Only the automated emails that are enabled will apply to all chapter-level events. Chapters cannot edit or create automated emails, but they can cancel or reschedule them.
Unsubscribe removes a member from all emails for the chapter, including newsletters.
By default, there are different automated emails available within your instance. You can enable or disable them as needed. When you enable an automated email, it applies to all new events for all chapters. To apply a new email to an event that was already published, go into the event and click Publish.
48-hour Reminder to Attendees
72-hour Reminder to People Without RSVP
Welcome to Chapter
2 Week Event Reminder to Chapter Team
New Event Published for Chapter Members
Post-Event Survey
Canceled Event
Rescheduled Event
Audiences and triggers
When you set up a new automated email you can use audiences and triggers to determine when and to whom an email is sent to.
Depending on the automated email you're sending, you might want it to send based on things like an event, a member's activity, their registration status, or their membership status.
The audience you select for an email changes which triggers are available.
Audiences for automated emails include:
Chapter team
Chapter Members
People with event ticket
Chapter members without event ticket
Attendees who checked in
Attendees who did not check in
Chapter Member
Sponsor Invoice Billing Email

HQ Audience
Users on event waitlist
Chapter Team Member
Post event survey non-responders
People with virtual event ticket
People with hybrid event ticket
People with in-person event ticket
When you select an audience that's relevant to an event, the triggers available include:
Event Start
Event End
Event Publish Date
Chapter Member Join Date
Recurring Event Publish Date

Event Canceled
Sponsor Invoice Paid
Event Updated*
Chapter Team Member Join Date
Chapter Activity Date
When you select the Event Updated trigger, automated emails are only sent to your selected audience if one or more of these event details are changed: Start Date, End Date, Venue Name, Address, City, Zip Code
Formatting
Click and drag the rich text box where it says drop a component here.

Highlight a piece of text to apply formatting, such as bold, italics, font size, links, buttons, text alignment, headings. Click the small plus (+) icon to choose from additional editing options, such as images, videos, lists, quotes, and horizontal rule.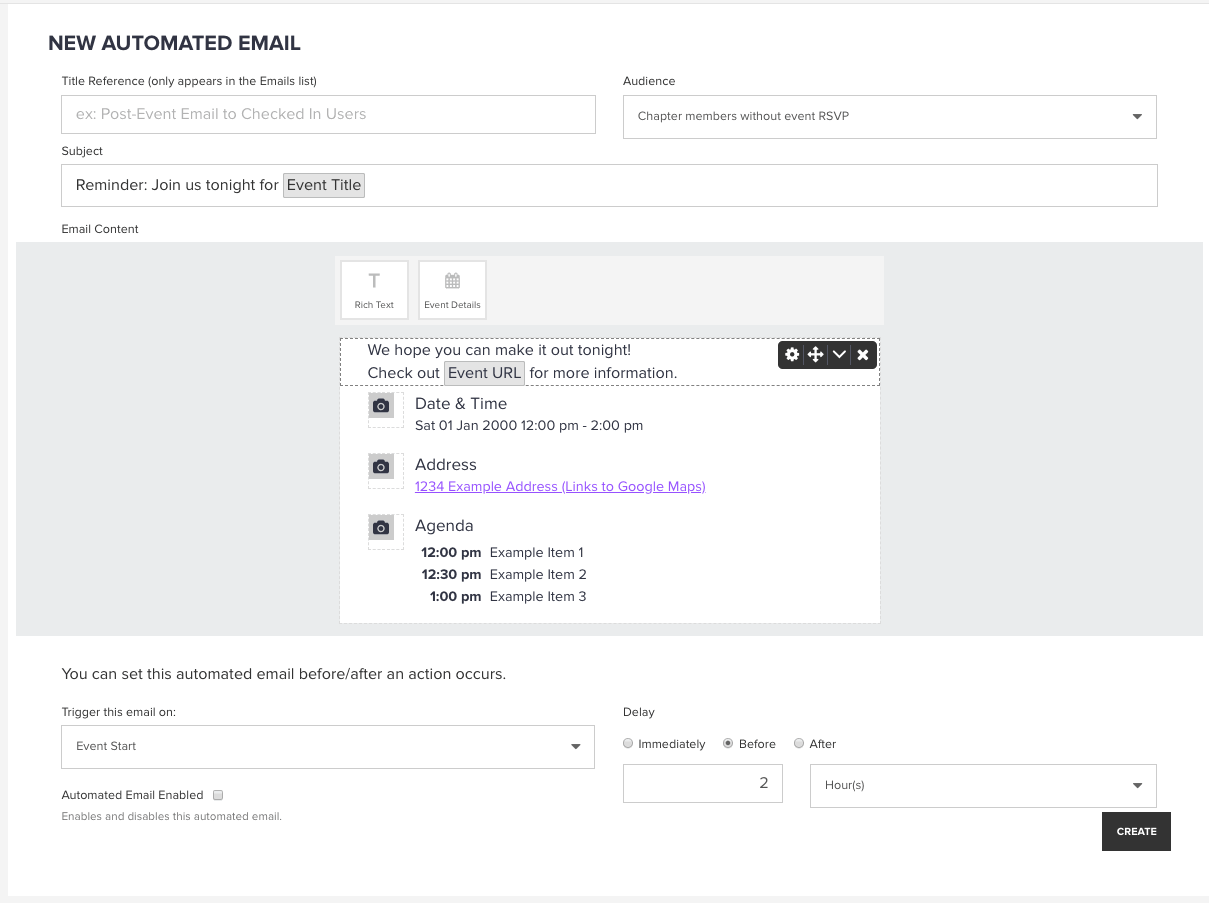 The option to add a button appears after you apply a link to the text.

Dynamic Tags
You can also use dynamic tags to include content in the subject and body of your emails that generates automatically for the corresponding event. Dynamic tags appear after you select a specific trigger for the email.
View a list of dynamic tags by typing an asterisk (*), and then start typing the name of a tag.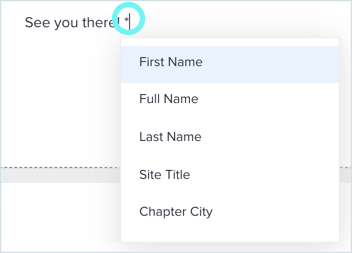 The different dynamic tags include:
Site Title
First Name
Full Name
Last Name
First Name
Last Name
Chapter City
Chapter Country Name
Chapter Title
Chapter URL
Chapter Member First Name
Chapter Member Full Name
Chapter Member Last Name
Custom Post Event Survey URL

Event Description
Event Address
Event Google Maps Link
Post Event Survey URL
Event Team URL
Event Title
Event URL
Event Venue Address
Event Venue City
Event Venue Name
Event Venue Zip Code
Sponsor Invoice Paid Date
Sponsor Invoice Identifier
Sponsor Invoice Status
Create a new automated email
In addition to the default emails available in your instance, you can create custom automated emails from scratch.
To create a new automated email:
In the Admin dashboard, select Emails in the sidebar menu.
On the Automated Emails tab, click New Email.
Add things like a title, audience, and subject.
Create the email content:
Set the email trigger.

Every automated email sends based on a trigger that is paired with time parameters. For example, if you wanted to send an email reminder about an event, you can set a trigger of Event Start with parameters of 2 hours and before.

Select the Automated Email Enabled check box to enable this email for all published events going forward.
Save your changes.
Edit automated emails
To edit an automated email:
In the Admin dashboard, click Emails in the left-hand sidebar menu.
On the Automated Emails tab select the automated email to edit.
Make changes to the email, such as the title, audience, subject, content, trigger, or enabled status.
Click Save.
Edits you make to automated emails apply to all events. Newly created or enabled automated emails apply to events when they are published. That is, you need to re-publish an event to apply new or newly enabled automated emails. There are also some changes you can make on an event level for emails like forms or event-specific emails.