This article explains best practices for screen sharing in Bevy Virtual Conference and how to get the most out of your screen share experience
---
Share your screen
Click the Share screen button in the bottom menu bar.

Don't see this option? You may not have Presenter Mode enabled.

Make sure to allow your browser to access your microphone and camera.

In the modal that appears on Google Chrome, choose which parts of your screen you would like to share:

Entire Screen: Share all windows and apps that are open on your machine
Application Window: Choose between the windows you have open on your machine
Chrome tab: If you are using the Google Chrome browser, you will get the option to only share a specific tab

Click Share to start sharing your screen.

If you are using Safari, you will only get one modal to allow Bevy Virtual to share the whole screen.

Click Stop Sharing to end your screen share.
Only one person can screen share at one time. Learn more about sharing audio through screen share.
Screen sharing and MacOS permissions
If you use macOS, and you're having trouble sharing your screen in presenter mode, you may need to change settings on a Mac computer. This is common for those that are using Bevy Virtual for the first time on a Mac computer.
Click the Apple logo in the top-left corner of your screen.
Select System Preferences.
Locate Security and Privacy.
Toggle the Privacy tab.
Scroll down to Screen Recording – enable this for your browser – Chrome, Firefox, or Safari.
Quit your browser and reopen the session. You should then be able to screen share.
If you are playing a video with sound through screen share, we recommend using headphones. The audio will come from the microphone detecting sound out of your computer speakers.
Share audio while screen sharing
As attendees join your event, you might want to play some music to set the tone! Or, you may want to show a video during your presentation. For best results, we recommend that you open your music player or video in a web application rather than through a desktop app (e.g., Spotify, QuickTime Player).
To share audio:
Open your media player in a Chrome tab.
Within Bevy Virtual, select the Share Screen button.
Select the Chrome Tab option.
Select the tab that has the content you wish to share (Youtube, or Slides, or Spotify on the Web etc - or anything that's open in a Chrome Tab).
Ensure to select the Share audio option.
Click Share.
Within Bevy Virtual, mute yourself -OR- ensure that you have speakers set to play through earphones. Otherwise, attendees can hear the music through your speakers and the browser, which causes echo.
Click play to play the content.

Unmute yourself again when the video or music is done playing.
Attendee screen share experience
When a presenter is sharing the screen, their screen will take up the Bevy Virtual window and the presenter will appear as a thumbnail in the top right corner.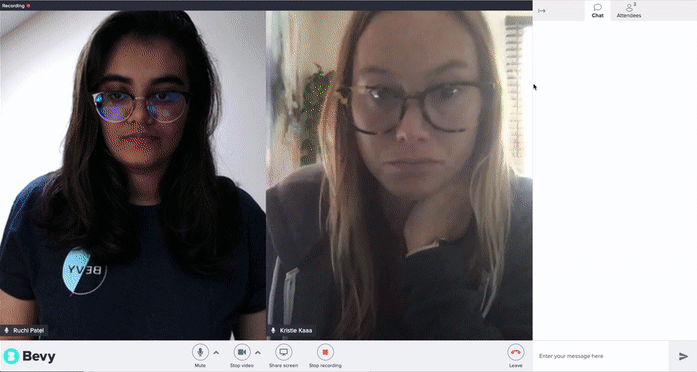 When no one is speaking, the thumbnail will display the person who is sharing their screen. It will change in real time to show the person speaking.
Recorded screen share experience
In the recording, screen share will appear as a picture in picture view.
Learn more about recording on Bevy Virtual.
Best practices for screen sharing on Bevy Virtual
Start recording before screen sharing to capture the entire presentation.
For sharing a video with sound, share a Chrome Tab and select Share Tab audio, or select Entire Screen and select Share device audio.
Only one person can screen share at a time, but multiple users can be in Presenter Mode.
Leave a few seconds buffer before starting or ending your presentation.
Mute your notifications for your apps on yoru desktop

Enable Windows or Macs Do Not Discturb setting

Use multiple monitors.

This will allow you to see chat, expressions and which screen you are sharing whiel haveing a full screen share experience on the other monitor allowing high quality screen share
If you use a tab or a app in window mode, and it's too small, it could appear pixalated and small on viewers screens