This article explains the information, controls, and data in the Event analytics dashboard. This dashboard is available for every event your chapter hosts in the Chapter Dashboard.
Ad blockers and Bevy analytics

Some ad blockers will prevent analytics pages in the Bevy dashboard from loading properly. These ad blockers (including uBlock Origin) will not load URLs that contain the path /api/analytics, which is used in the background within Bevy analytics dashboards.

If your ad blocker allows customization, you can allow this path for the domain of your Bevy site. If your ad blocker does not allow customization, you can temporarily disable it for your Bevy site in order to view analytics.
Overview
Use the Event dashboard to access an analytics overview for an event. View multiple metrics at once, explore trends, and get a closer look at details. Access this dashboard in the Chapter dashboard.
The data on the Event dashboard shows the following data
For all events:
Registration—How many people are registering for events and when. For example, you can see total registrations, registrations by day, or total available tickets.
Attendance—Who's attending events. For example, you can see total attendance, attendees by hour, or how many people registered but didn't attend.
For Hybrid and Virtual events:
Engagement—What people are doing at events. For example, totals for booths, sessions, and networking tables. You can look closer with information like average engagement in minutes, average percentage of a session viewed, all organized by session.
Questions and Answers—How many questions people asked, voted on, and were answered in virtual conference events. Discover who things like who asked a question, how long until it was answered, and where the question was asked.
Within each section there are different ways the data is summarized including:
Key Performance Indicator (KPI) titles—A total or average summarizing a metric.
Visualizations—A chart displaying dashboard data. For example a pie chart, a bar graph, or a line graph.
Tables—Rows of records showing details of the data.
Navigate the dashboard
Explore and interact with the different parts of the dashboard including: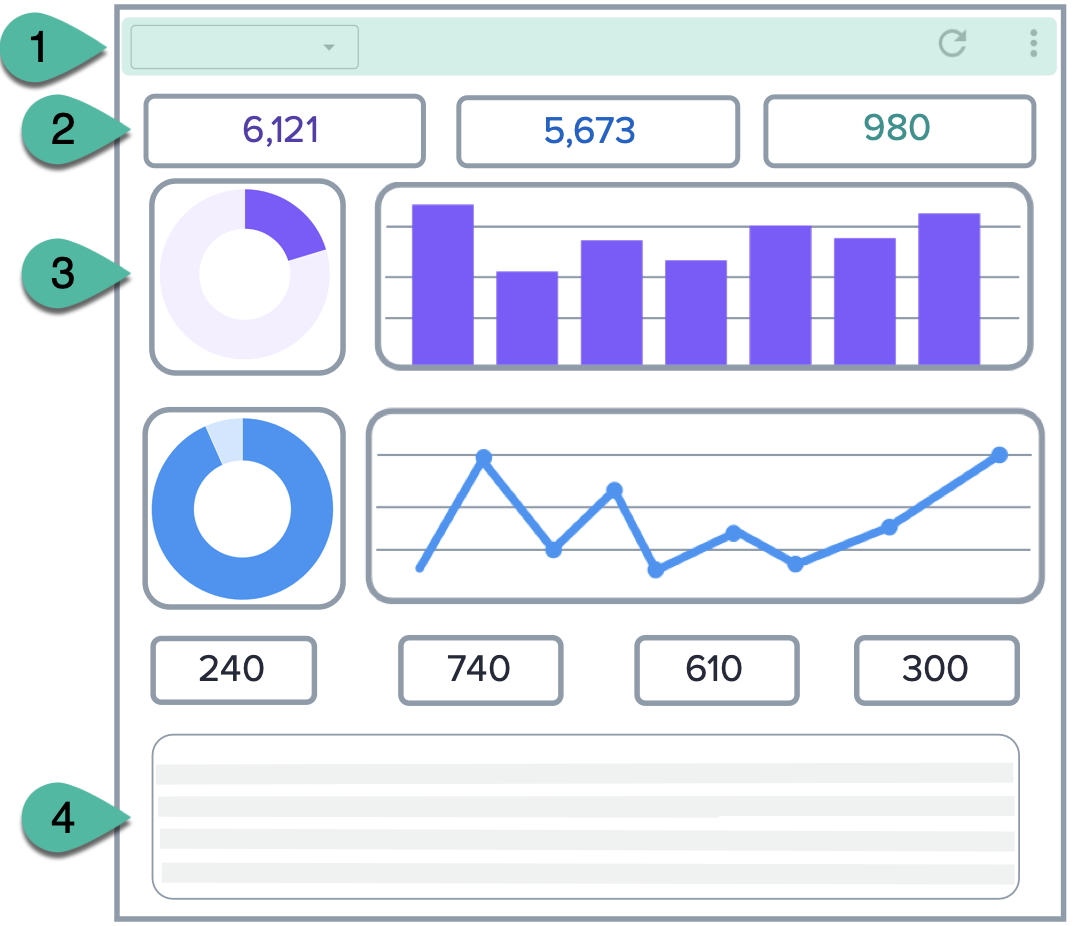 Dashboard controls

Dashboard actions—Open this menu to access the different actions available for the entire dashboard, such as Clear cache and refresh, Download, Schedule delivery, or Reset filters.
This menu also displays the keyboard shortcut for each action.

KPI title—Open the menu for the KPI to refresh or download this data. Select a format and options like how many rows to include, formatting, or results. Then download or open the results in your browser.
Visualization—Hover over different points in the visualization to see specific values or click part of the visualization to open the details. Clicking a visualization opens a table with each record.
Table—Click a column header to sort values by that column, click and drag a column divider to resize columns, or click and drag a column to re-order them. Click a bar in the table to open the details of the data. Clicking a bar opens a data table with each record.
Drill into data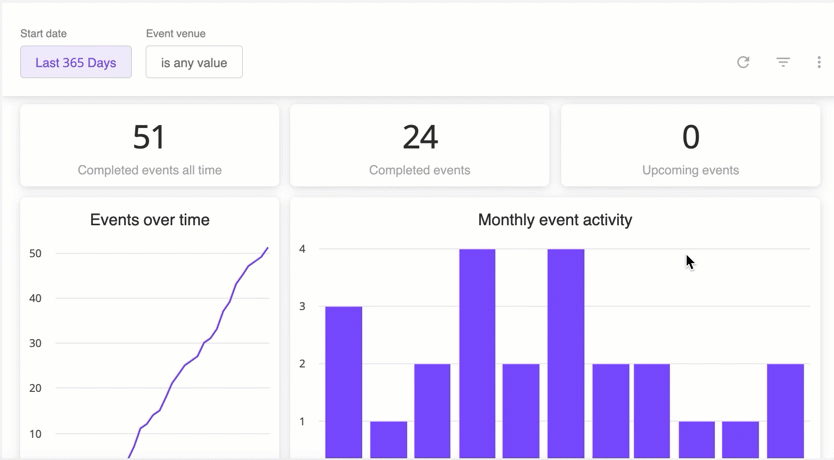 Selecting different parts of the dashboard opens the option to drill into data. After you select part of a visualization, choose how you want to drill into the data. This opens a dialog window where you can select a visualization or table view. From the table view you can:
See what filters are applied to the data
Re-order columns
Freeze columns
Copy values
Autosize and reset column width
Download data
Download data
Download data different ways including:
From the data table using the Download button



This downloads the rows that the visualization displays. To download all rows, expand the Advanced data options, and then select All results.

Open the action menu, and then click Download data


You can configure the format and access advanced options such as:
Results—Download with visualization options applied or how it displays in the data table.
Data values—Formatted or unformatted. For example, rounding or special characters.
Number of rows to include—Current results, all, or a custom value.
Send data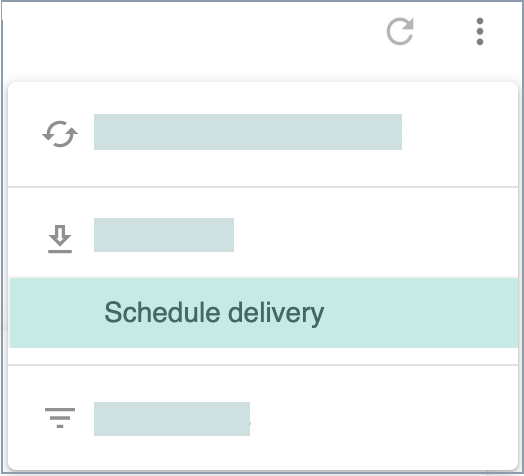 Use the Schedule delivery option in the dashboard controls to configure a regular export of the dashboard data. You can configure different settings and options including:
Frequency and timing of delivery
Destination
Format
Filters
Display settings
Additional message
Schedule delivery to track registration for an event. Instead of having to check your dashboard every day, schedule an daily update that gets delivered to your inbox.
After you have the delivery set up and ready to go, click the Test now button to sent a test, or click Save. After you save your delivery options, Bevy automatically delivers the dashboard data at the right time.