This article outlines how to create an event and related agenda for Bevy Virtual Conference.
To create a virtual conference event:
Within the chapter dashboard, click Events from the left sidebar.
Click New Event and choose the Virtual Conference.


The event types that are available are determined at the admin level from within the admin dashboard.

Fill out the General Information tab:


Title and Description

Drag and drop photos into the event description

Style your description text (bold, italic, etc.) by selecting the text; styling options will appear once a selection is made.

Optionally apply tags for analytics purposes. (Tags must be enabled by your administrator.)
Optionally hide the event to prevent it from appearing on the Chapter page and avoid sending emails to members.

Schedule and Agenda

Set the start and end dates and times for your conference.


Note that the agenda displayed in the dashboard is set to the event's time zone.

Location

For hybrid or in-person events, specify a physical location where the event will be held.
The location field will autocomplete with proposed sites (validated with Google Maps) as you type. For more details, use the Location Details field.
You can also select to Show or Hide the location on the Event page.

Lobby

The lobby is optional but serves as a valuable first touchpoint to engage attendees. To learn more, see lobby.

Virtual Event Platform

Conference event types automatically use the Bevy Virtual platform.

Event Tracking

Add various People roles.


To learn more, see speaker profiles.

Add Sponsors & Partners.


To learn more, see sponsors and partners.

Add Tickets/RSVPs.


To learn more, see tickets.

Click Save Draft and Preview before publishing.
After you save the event, you'll see 4 main options for building agenda items:
To learn more, click on each of these elements:
Each agenda item provides unique content and interactivity options within the entire conference experience.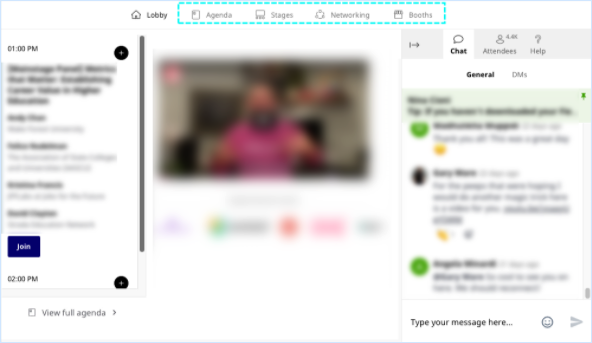 Make sure to save the agenda at each step. Build in breaks between segments on the stage.
How does the appear on my conference event page?
Here's an example from a customer event. The public facing Conference agenda will be based on what you add in the builder above for Stage and Sessions.