This article outlines the member details that are visible within the Chapter Dashboard. Additional member settings are available from within the Admin Dashboard.
The Chapter Dashboard provides profile information for chapter members under the Members tab. Here you can find sections titled Personal Information, Memberships & Subscriptions, and Events.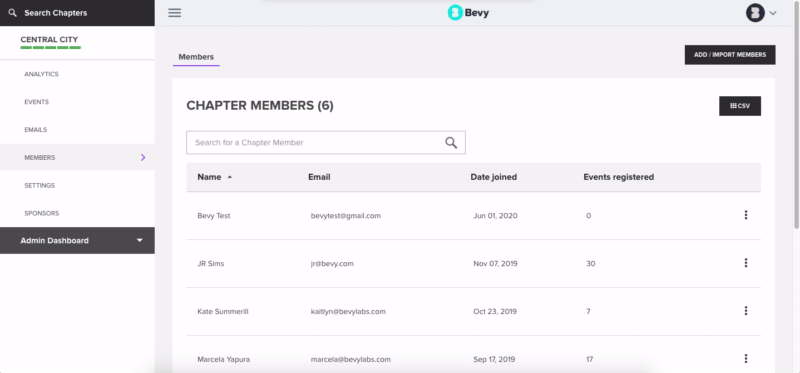 Personal information
Displays the user's information that they entered when they created an account. This information* is only editable by the member:
Name
Country
Timezone
Company Name
Industry
Email
City
How long they've been a member
Title
Role*
Social accounts linked to their Bevy account
Role is automatically set to User when a new member signs up. This setting is not editable by the user. See site member details in the Admin Dashboard for more information.
Memberships and subscriptions
Displays any other chapters the selected user is a member of and subscribed to.

Events
Displays event analytics for a member. This information displays in different charts including events and ticket types. This section also shows a list of all past events the member purchased a ticket for.