This article outlines how Networking tables work in Bevy Virtual Conferences. See Bevy Virtual for non-conference events.
---
Networking in Bevy simulates an in-person "networking table" that is open for visitation during the entire conference. Networking tables are great ways to engage your attendees in your virtual conference! Attendees join networking tables to connect on topics they are interested about, birds of a feather discussions, and more.
Unlimited number of tables allowed.

As a host, you create networking tables in advance in order to give attendees the ability to find tables they are interested in during the event.

Segment tables by restricting certain ticket types, or leave them open to all.
There can be 2-50 attendees in one table at any given time (chosen at time of setup). The number of attendees allowed within each table is the same for all tables across the conference.
Attendees and can still join past the capacity limit (<50), but they won't have the option to turn on video and audio.
All attendees join with presenter mode, meaning they get audio, video, and screen sharing access. Attendees can toggle off and on their camera or microphone as they want.
Each table has its own dedicated chat.
Each table can also be recorded if a host wishes.
You can make updates while your event is taking place. This includes adding and removing tables or making edits to existing ones. However, any changes made to the Networking settings during a live event will affect only those who navigate away and back to networking after the changes were saved.
Networking tables do not display within the agenda; they are accessible from the conference navigation bar at the top. If you do not add a table, the Networking option won't appear.
Add a networking table
From the Agenda tab of your Virtual Conference event, click the Networking tab.
Click to add a table, and fill in the relevant details.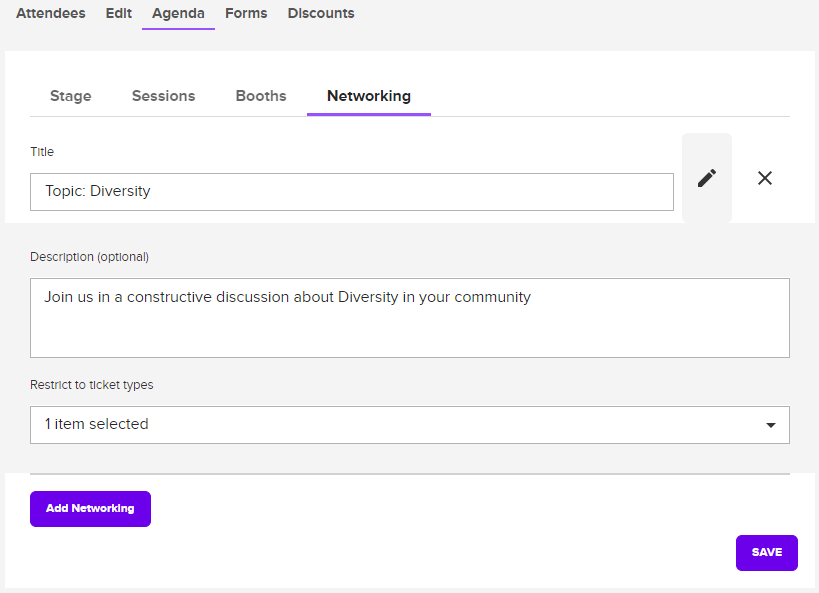 Re-order networking tables
Drag and drop the handle on the left.
Ensure to save once completed re-ordering the tables.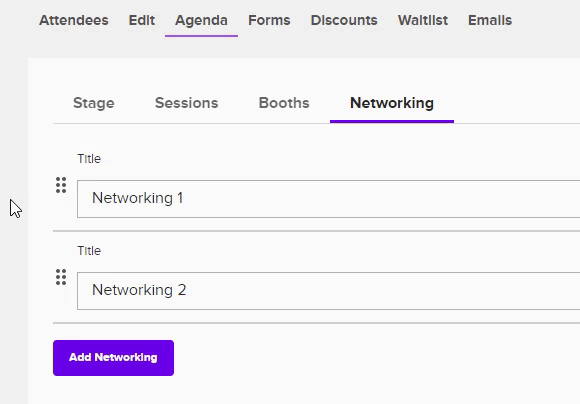 Attendee networking experience
Join a networking table from the Networking landing: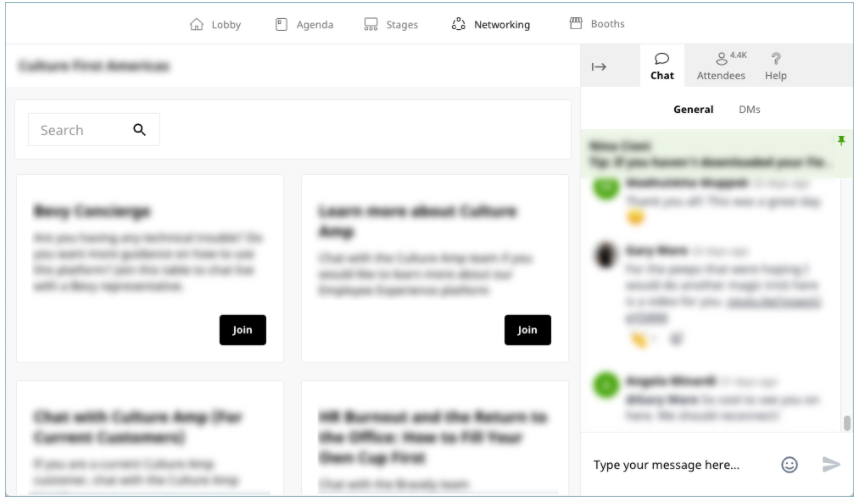 After joining a networking table: